The WIEA'22 Launch is set to come off today 23rd June, at the Ecobank head office.
The annual celebration of Women in entrepreneurship in Ghana which is organized by Women in Entrepreneurship Ghana has announced its partnership with Ecobank Ellevate and officially invited the presence of Baobab Entrepreneur as one of the media partners to broadcast the WIEA'22 launch which is stated to come off today, 23rd June 2022 at the Ecobank head office, Ridge. Opposite Efua Sutherland Park exactly at 2:00 pm. The event will be graced by Oheneyere Gifty Aunt, Board Chairperson (WIEA), Mrs. Loretta Sarpong, Head of Ecobank Ghana, Pic's Women Desk, Akua Sefakor, Business Coach and Mentor ( Nelvics Business Dialogues) as key speakers on the theme; BREAKING THE BIAS, THE IMPORTANCE OF FINANCIAL LITERACY.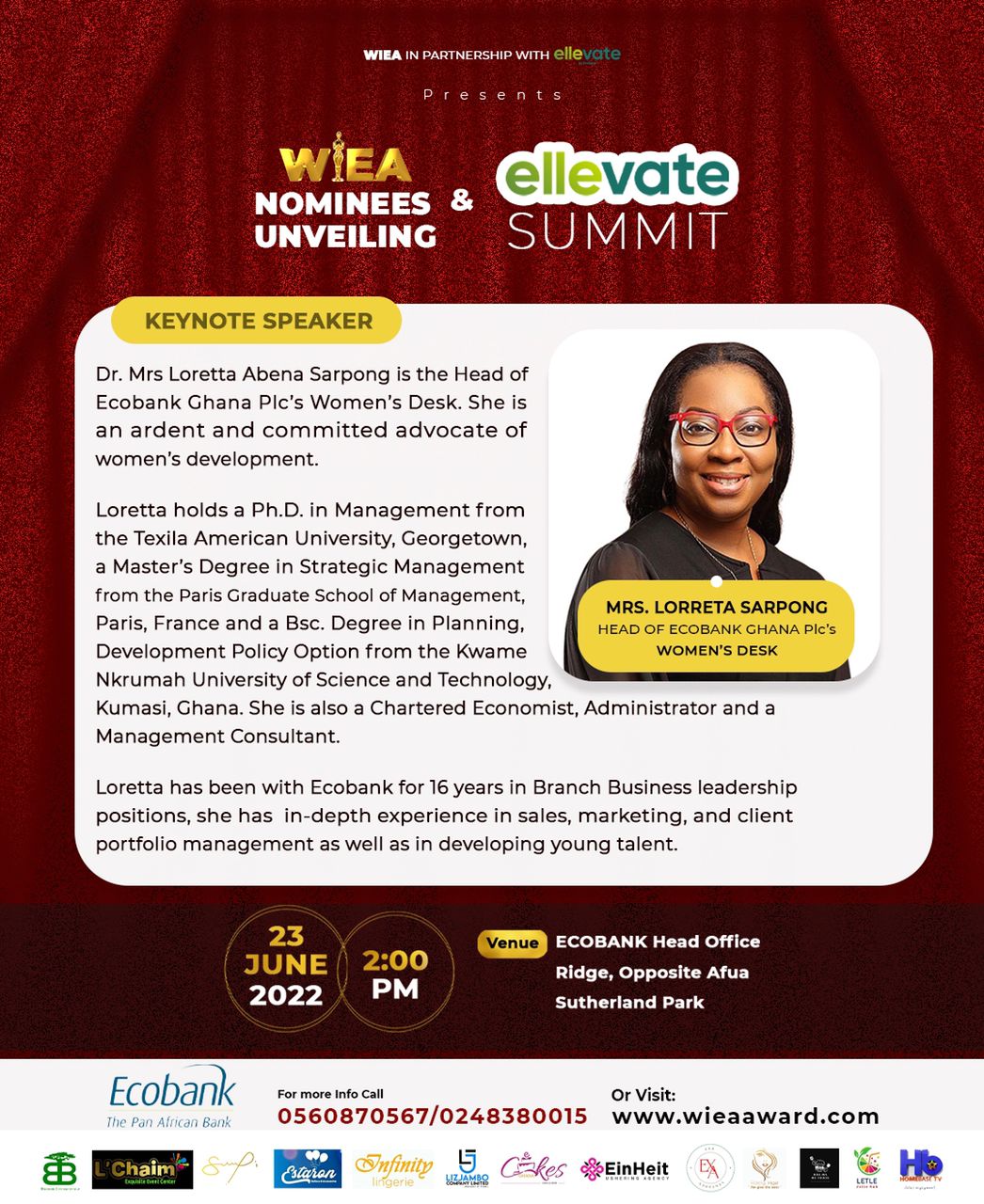 The annual median aims to empower and recognize the strong impactful effort by some women in the business industry and contributing to Ghana's economic growth.
The maiden edition of the Women in Entrepreneur award shines a national light on their priceless work which improves many lives in Ghana amidst the era of the COVID-19 pandemic.

Many women in the business field and loved ones are encouraged to anticipate and invited to the 3rd edition of the WIEA'22 launch and nominees Unveiling.

Announcing the partnership and honoring the invitation of Baobab Entrepreneur, the founder of Baobab Entrepreneur, Mr. Yayrah expressed his ecstasy to help the event reach its goals. He urged all entrepreneurs, especially young startups, to take advantage of the official launch & nominees' unveiling of the event to help expose, socialize, and connect with investors and sustainable partners.