BAOBAB ENTREPRENEUR Chief Executive Officer (CEO) GETS NOMINATION FOR  Service Provider of the Year.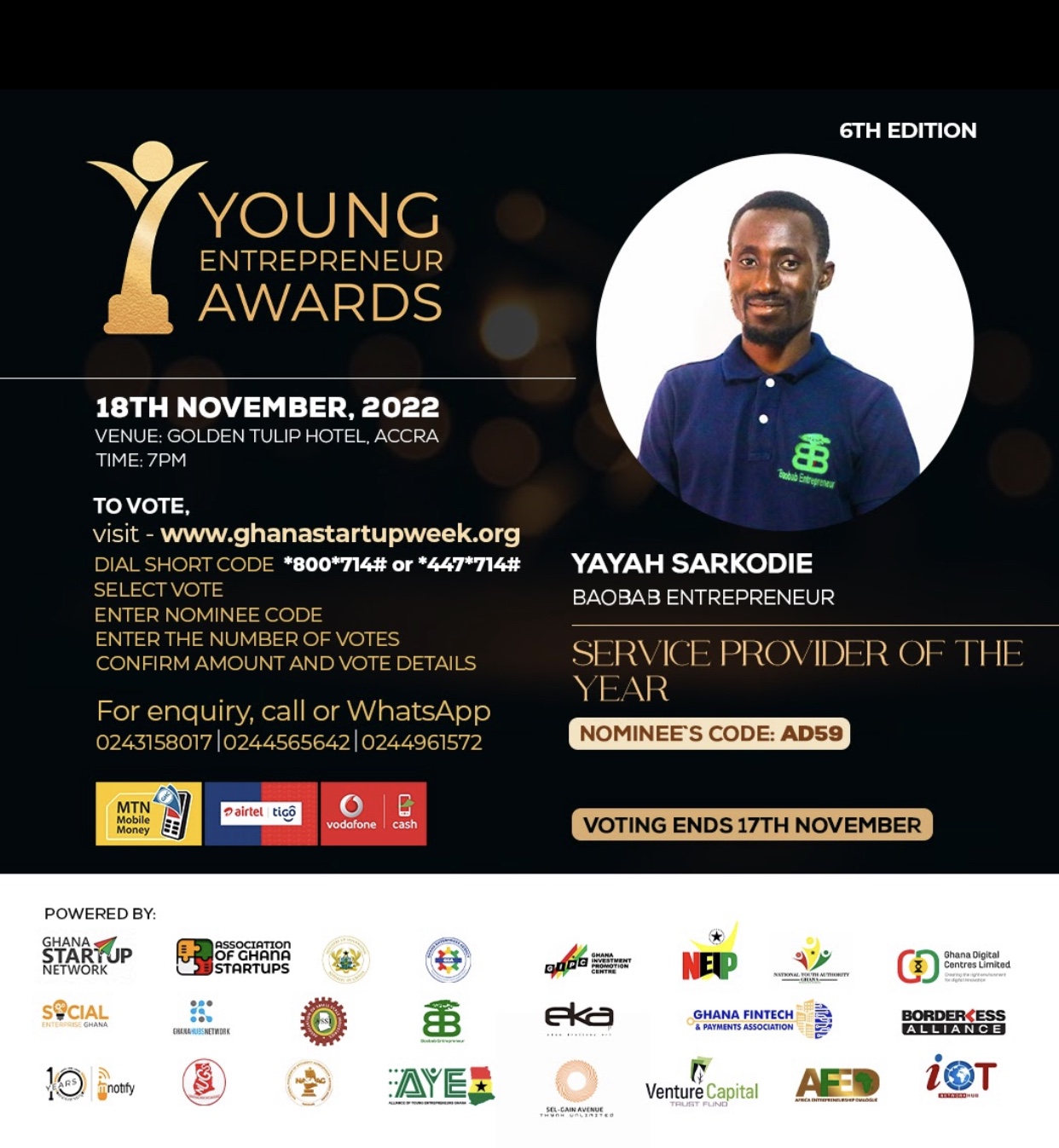 Chief Executive Officer (CEO) for Media giant in the entrepreneurial space, Boabab Entrepreneur Yayah Sarkodie has been nominated as the " Service Provider of the Year" for the upcoming Young Entrepreneur Awards.
The Awards is part of the Ghana Startups Week program to appreciate the hardworking young Ghanaians thriving to make impacts on the Ghanaian Economy.
The Young Entrepreneur Awards has over the years recognized and celebrated deserving Startups and Young Entrepreneurs across the 16 regions of Ghana. This year's edition promises to be extraordinary, having learned and grown from previous experiences.
Baobab Entrepreneur is a social media entity that aims to bridge the vast gap between well-established successful Entrepreneurs and young upcoming Entrepreneurs. 
For this reason, we go the extra mile of fishing for these successful Entrepreneurs, interview and collect ideas and tips on starting and running a successful business, and then share this valuable information with a wide range of young Entrepreneurs who would otherwise not get the opportunity to meet these great successful Entrepreneurs.
By so doing entrepreneurs and startups also got the opportunity to showcase what they are doing.
<<<<< *HOW TO VOTE* >>>>>
1. Click on the link shorturl.at/bgtDO
2. Select Categories
3. Service provider
4. Click on my name: *Yayah Sarkodie*
Select the number of votes and enter your phone number to vote.
OR
1. Dial *800*714# or *447*714#.
2. Select Vote.
3. Enter Entrepreneur code(AD59).
4. Enter the number of votes.
5. Confirm the Amount and vote details.
Please no vote is too small.